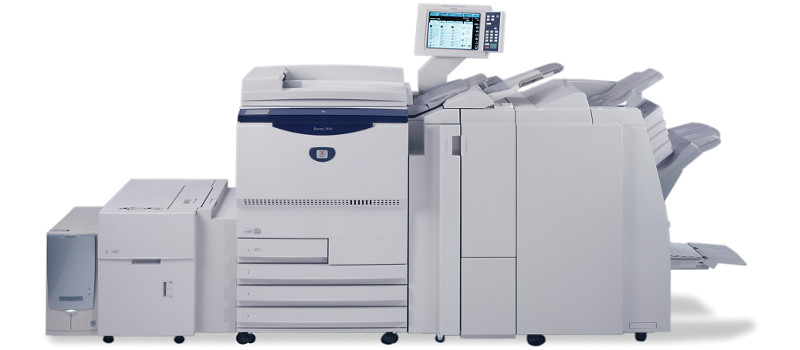 Compare Prices On Copiers For Lease
Guide to Choosing the Right Office Copy Machine
In today's digital world, many people wonder if they can get by without a copy machine. They figure since most paperwork is digital now, computers and the cloud will suffice when it comes to sharing information. While this may be true to an extent, it doesn't mean that offices don't need copy machines anymore. There are still many reasons offices need copy machines.
Reasons Offices Need Copy Machines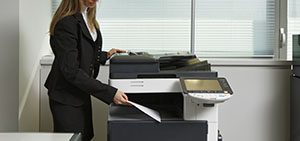 The cloud can't do everything just yet. It's still more practical to print copies. People can easily make notes on them and share them with others where there is no Wi-Fi.
Many people do not connect themselves to the Internet, email, and the cloud as much as others do. It's always a good idea to have the ability to print information for those inviduals that may need or prefer hard copies.
While everyone has their hands around their phones and tablets, many people still prefer the feel of paper in their hands. With a copying machine, customers will appreciate the option of having something they can hold.
Digital signatures are becoming more popular, but for many institutions, an original signature is required. You can only do that with printed copies of documents.
Copy machines are still an essential tool in today's business world; learn how to choose the best one for your office.
Considerations for Buying a Copy Machine for Your Office
Copy machines come with a multitude of options now. They have evolved with the advancements of technology. When looking for a new copy machine for your office, it's important to assess your office's needs, and then learn about the different copiers available to find the best one.
Copiers have many different functions, so it's best to learn about the different types available. The six best copiers for business are: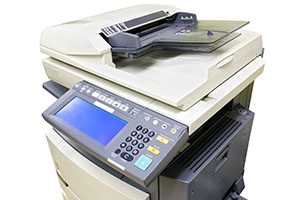 Color Copiers

These copiers produce high quality color copies quickly. They are perfect for businesses that have many presentations. The colors are crisp, which provides impressive copies for clients, investors, or anyone else who will appreciate the true beauty of what this copier can do.

Some color copiers will only print in color. You won't have the features of faxing, scanning, and network access. If you want colored copies along with these other functions, you may need to consider a multifunctional copier.

Digital Copiers

Digital copiers scan documents and then either print copies of them or send them to a computer on the network. Businesses that use these copiers are using digital and paper documents. They may print documents to have clients sign them, and then scan them to file on a computer and/or print a copy to file in a folder. Digital copiers use laser and toner to print copies. The laser imprints the information on a drum, the toner adds the ink, and the copies are printed. The toner needs replacing when it runs out. Replacement depends on the use of the copier. However, the containers are usually large enough to be able to keep up with the demands of most large businesses for weeks.

Multifunctional Copiers

Multifunctional copiers provide businesses with even more features. While individual copiers will vary, the average speed is 26 pages per minute. They only take a few seconds to boot up, so they're ready whenever anyone in your office needs to use it. The paper tray holds hundreds of sheets of paper, which can be quite convenient. Copy options include 2 on 1 and 4 on 1. You can even take ID cards and have both sides on one sheet of paper. The navigation screens on multifunctional copiers are big and user-friendly. What people love the most about a multifunctional copier is the ability for more than one person to use it at one time. Someone can scan a document or fax while another individual is printing a document from a computer.

Small Business Copiers

Small businesses normally don't use copiers for hours. However, they are usually multifunctional because even though they are not used as much as in larger businesses, there are times when employees will need the machine at the same time. Smaller standing copiers are most popular among small businesses. Since these copiers are smaller, they fit nicely in small spaces, and are attractive in case customers and clients are able to see them.

Black and White Copy Machines

Black and white copy machines only print in black and white. Some copiers come with a scanner and fax, but it's not common. If these are functions you need, it might be beneficial to choose the multifunctional copier, even if you only use the black ink. If you don't need a scanner or fax, these black and white copy machines are perfect for you.

Wireless Copy Machines

Wireless copy machines will connect to a network which can include all of the electronic devices you have in your office. When employees want to print something from their computer, they can select the print from the computer's printer setup window. The information transfers electronically to the copy machine, which will then print the documents.

These copy machines may not include the functionality of faxing and scanning. If your office needs these features, a multifunctional copier may be a better choice. Not all multifunctional copiers are wireless though, so be sure to check on that as you're shopping for one.
Best Copier Depending on the Size of Your Business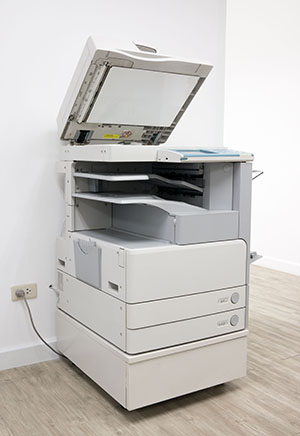 Learning what your company and employees need out of a office copy machine is the best thing to do before making the investment. The function and features of each machine vary and certain machines might be best suited for one business but not another. First, determine how many employees you have in your office that will be using the copier.
| Number of Employees | Best Office Copy Machine |
| --- | --- |
| Less than 10 | Any simple copier that prints, scans and faxes at a rate of approximately 35 pages per minute |
| 10-30 | Digital Copier that prints as many as 100 pages per minute is best |
| 30+ | Multifunctional copier is ideal. Speeds can reach 100 pages per minute and can perform more than one function at a time |
Price Ranges for Copier Machines
Prices can range from several hundred dollars to as much as $10,000. Since there are so many copier machines available with different features, the only way to get an accurate quote on one for your office is to use a copy machine quote service . A quote will provide you pricing information for the features you need in a copier so that you can get a good quality, high performance copy machine that fits the needs of your business.
The Typical Lifespan of Office Copiers
The average lifespan of a office machine is usually around 5 years for a floor-standing unit while higher-end machines can last as long as 10 years. Most copiers will start to show their age by slowing down on printing speed, shutting down unexpectedly, or jamming more often. Many times, maintenance and repair can extend a copier's life, but not by much if it's approaching the end of its lifespan.
Leasing - Another Option for Copiers
Many business owners do not have it in their budget to spend thousands of dollars on a copier. This is why many of them will choose to lease one. Some advantages to leasing a office copy machine are:
You'll have a low monthly payment
The leasing company takes care of the maintenance and any repairs that it may need at your office
Replenishing the supplies is easier because all you have to do is ask for service, and the leasing company will send someone over to your office
When you're ready to upgrade, you can do it quickly and easily. All you have to do is select the one you want, and the leasing company will pick up the old one and install the new one
You'll have tech support in case there are any technical issues you need help with when it comes to printing from computers, scanning, and faxing
Many different types and models of copiers with a variety of functions are available to lease
Quotes are also available for leasing a copy machine. Getting a low monthly payment for as many features as possible will ensure that you're getting the best deal in a leased copier.
Getting the best copy machine for your office is key. When you select a copier that can keep up with your employees' demands, you'll make them happy and productive. This can lead to improved business growth, which will pay for the copier many times over. With the ability to purchase or lease a top-notch printer, you will provide your employees with a machine that they can rely on to get their job done.